WHY SOUP?
Soup, in its many iterations, has accompanied me through most stages of life (it's not just a phase, mom!)
Alphabet soup as a child, chicken Noodle Soup at the first indication of a sniffle. Gazpacho, straight from the bottle, on a hot summer's day, an oversized bowl of pho to cure even the wobbliest of hangovers. There's something about broth that feels remedial, nourishing, magical!
Click below for my digital cookbook (aka Instagram)
✌️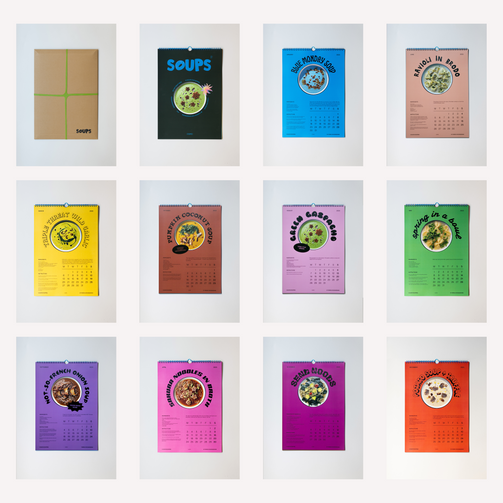 Featured product
Soup Calendar
Regular price

$48.00 USD

Sale price

$48.00 USD
Tax included.
It's a soup calendar!!! Designed by OSMO in collaboration with SSSSSOUPSSSSS, it's the perfect gift for anyone who loves soup and uses ✨planning ✨ as a coping mechanism. 
This A3-sized spiralbound calendar is a sssssserious statement piece. Each month features a seasonal recipe for you to master and memorise, brought to life by an explosion of graphics and flavour. On the back, you'll find Soup 101, featuring a formula for most types of soups, pantry essentials, and QR codes leading to my foundational broth recipes.  
Additional Information
Dimensions:  297 x 420 mm // 11.7 x 16.5 inches
Weight: 700 g / 25 oz
All sales are final 💛 
Featured product
Soup Caps
Regular price

Sale price

$38.00 USD
Tax included.
Limited edition soup caps!!! The best way to let the world know that you love SOUP. 
Made of cotton, fits most heads 🧢
UK shipping only at this time